September 5, 2013
First peek: 'House of Versace'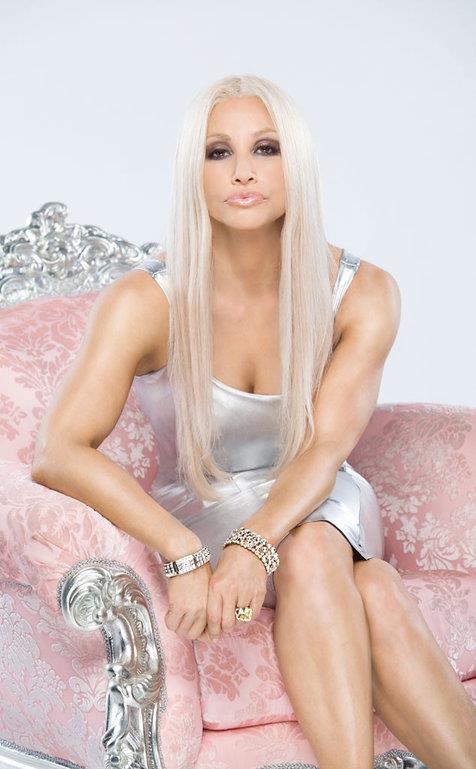 Rejoice, fans of Kabuki theater and Vegas impersonators: Lifetime is working on a new original biopic. We kid, we kid … if ever there were a pout for Gina Gershon's fabulous lips to portray, the cable network has found it in Donatella Versace.
In the first photo from "House of Versace," Gershon, 51, expertly contorts her own voluptuous pucker to mimic Donatella's, finishing off the facial impression by jutting her ice-hued jaw forward while slightly lowering her heavily made-up lids. Long platinum hair, a skintight silver getup and muscle-bound biceps complete the look.
Co-starring Enrico Colantoni as Gianni Versace and Raquel Welch as the sibs' Aunt Lucia, the TV film is an adaption of Deborah Ball's book "House of Versace: The Untold Story of Genius, Murder, and Survival." It focuses on the designer's personal and professional life from the time her brother, Gianni, was murdered, through her relaunch of the company as a massive international success.
During that period, Donatella initially faced wide criticism, which she attempted to deal with through substance abuse, a line of defense that nearly brought the fashion house to financial ruin.
The buildup to "House of Versace" has so far been relatively low-key compared to the onslaught of on-set photos that surfaced ahead of Lindsay Lohan's mega-hyped mega-fail, "Liz & Dick." We'll bite the bullet here and predict that's a good thing.
"House of Versace" premieres on Lifetime on Oct. 5. And yes, now we'll let your eyeballs have the real Gina Gershon back …